WHEN WILL IT START AND END?
As their name implies, Temporis servers are temporary servers with a limited lifespan.
The dates for this edition are:
Pre-registration opens: January 5, 2022
Pre-registration closes: January 26, 2022
Servers open: February 2, 2022
Servers close: March 30, 2022
SERVER ACCESS
IS A SUBSCRIPTION NECESSARY FOR THIS ADVENTURE?
Yes. Only players with subscriptions can access Temporis.


IS THE SERVER IN SINGLE-ACCOUNT MODE?
Yes.


CAN I PLAY ON THE SAME TEMPORIS SERVER WITH MY BROTHER/FRIEND/PET FROM THE SAME IP?
Yes, you can play together on two different computers, provided that you meet certain requirements. The accounts must:
be certified under different names;

have valid telephone numbers and email addresses that are different for both accounts.
For more information about single-account mode restrictions: Head over here!
IMPORTANT INFORMATION ABOUT PRE-REGISTRATION
Changing Servers
If you are pre-registered and want to change your game server before the event starts (during the pre-registration period), then you must cancel your registration and go through the pre-registration process again.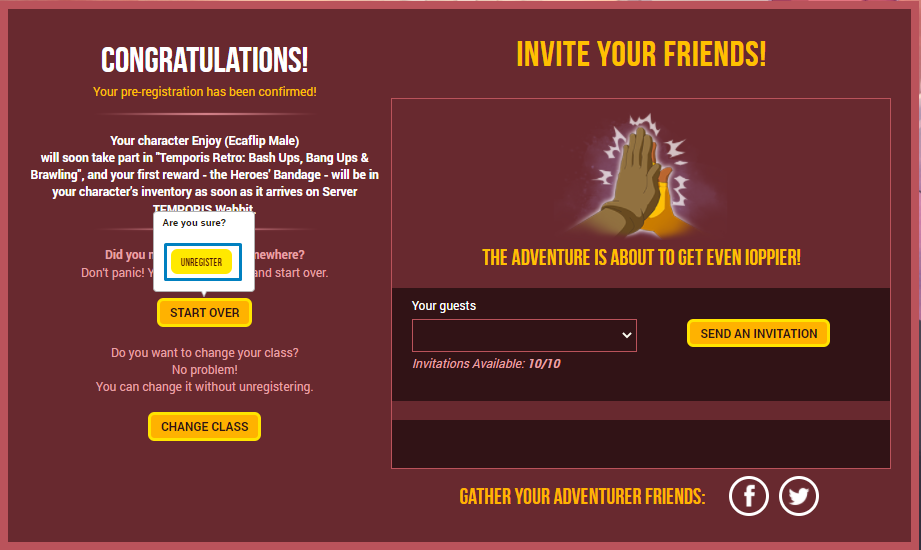 Changing the class or gender of your character
If you are pre-registered and you want to change your character's class or gender during the pre-registration period, you can do so without having to cancel your registration. All you need to do is go to the pre-registration page.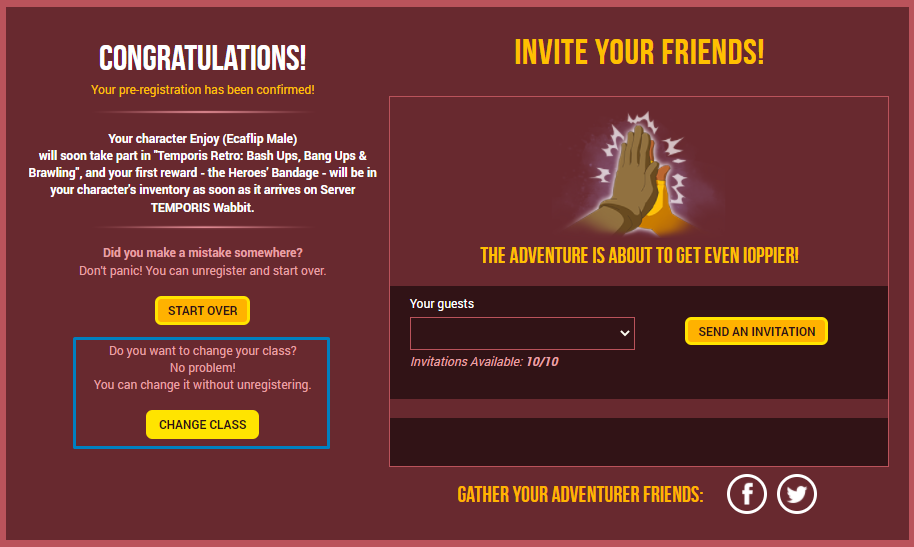 PURCHASES
WHAT SERVICES ARE AVAILABLE?
Only the "add a character slot" service is available on Temporis.
WHAT ITEMS ARE CREDITED BACK WHEN TEMPORIS ENDS?
The following items purchased in the shop will be credited back to you when Temporis ends:
Things that will not be credited back to you:
Name change potions

Guild name change potions

Color change potions

Khamelerost potions

Sex change potions

Face change potions

Mimisymbics
Purchases and items that are acquired for immediate consumption will not be returned. For example, if you buy a class change potion, you have used the service, so you do not qualify for a refund or compensation, even if the character is not transferred when the server closes. Therefore, be careful before you make any purchases.
To make things clearer, the shop item descriptions will indicate which ones will be transferred to you. Make sure that the description contains a note to this effect if you want to be able to use your purchases after the server closes.
OTHER
Transfers through the gift interface will not be possible for your shigekaxes obtained as a result of rollbacks on classic servers.
Don't forget that access to the Temporis Retro servers is reserved for players who have a valid active subscription.


WHEN THE SERVERS CLOSE
Characters created in Temporis cannot be transferred to a classic server. An experience potion that matches your character's progression will be credited to your account at the end of the adventure.


WILL THE EXPERIENCE POTION BE EXCHANGEABLE, LINKED TO THE CHARACTER, OR LINKED TO THE ACCOUNT?
The experience potion will be linked to the account. You will receive it via the gift interface, which will let you choose which server you want to use it on.


CAN KAMAS BE TRANSFERRED?
No.
CAN EQUIPMENT BE TRANSFERRED?
No.
CAN PROFESSIONS BE TRANSFERRED?
No.