The Kama Exchange (KE) allows you to trade Ogrines for kamas (and vice versa) with another player. Players are free to determine their own exchange rate. All players have access to it, even non-subscribers.
What you should know
Ogrines obtained from the Kama Exchange are linked to the player's account and expire after 90 days, at which time they can no longer be used in the KE.
However, you may still use the linked Ogrines to buy a subscription, acquire items, or use services for games that accept Ogrines.

You may only create one offer to sell kamas and/or Ogrines through the Kama Exchange at a time.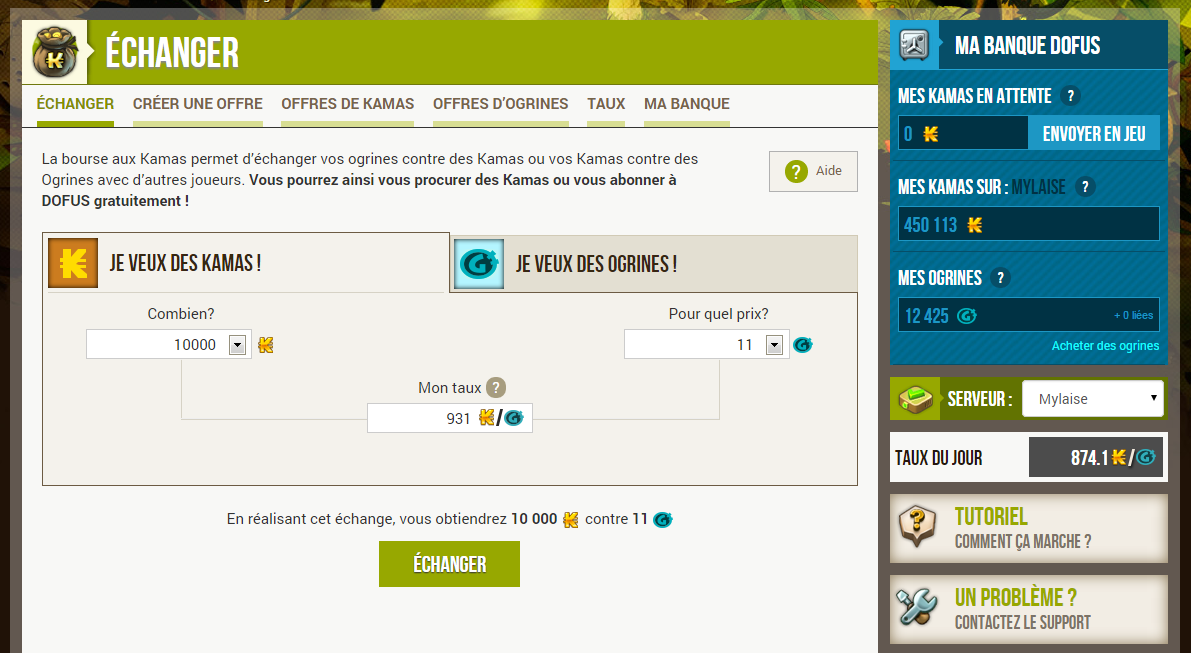 How to get kamas or Ogrines
Step 1: Log in to the Kama Exchange.
Step 2: Choose which server you'd like to do business on.
Step 3: Make an exchange.
You can acquire kamas or Ogrines in three different ways:
Select a predefined amount from the drop-down menu by entering the number of kamas you'd like in the drop-down box. This will take you directly to the confirmation step. Then all you have to do is click Confirm to purchase the kamas.

Or you can set a specific offer. This takes you to a page that allows you to choose how many kamas you'd like to buy, or how many Ogrines you'd like to spend. After accepting the amount, you'll have the chance to confirm the purchase, and then it will be approved.

Finally, you can create an offer to sell Ogrines. If none of the existing offers interest you, you can click "Create an offer". You'll then enter an amount of Ogrines at the exchange rate of your choice.
Step 4: Confirm the exchange.
How to obtain kamas in the game
Once your trade is approved, you must send the kamas received to the game.
To do this, go to the "My DOFUS Bank" section and click "Send to game". You may only send your kamas to the server you selected during the purchase.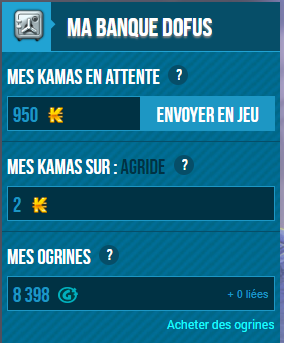 Are there any restrictions?
Yes. The following restrictions apply:
You cannot have more than 180,000 Ogrines on a single account.
Ogrines obtained from the Kama Exchange are linked and can no longer be used on the KE.