What is Ankama Shield?
Ankama Shield is an account protection system available to players of the DOFUS, WAKFU and DOFUS Touch games.
The service improves your account's security by safeguarding you from attempts to steal your account.
This security feature:
is free,
feature applies to the games DOFUS, DOFUS Touch and WAKFU, and to all Ankama's websites,
and can be customized via your account management in the "Security" tab.
If your login details are stolen, the thief's computer will not be recognized, so they won't be able to take your account, and their in-game actions will be limited.
This is what we call putting the account in "restricted mode".
How do I activate Ankama Shield?
Step 1: Go to the Security tab in your account manager
Step 2: Click "Activate Ankama Shield"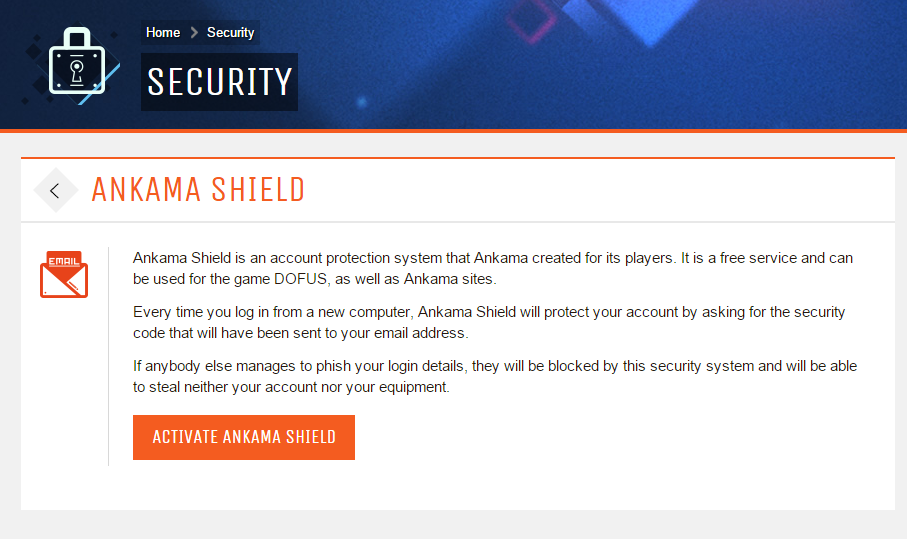 Step 3: A security code is then sent to the email address associated with your account (if you can't access this anymore, change it by clicking here).
Step 4: Enter the security code to activate Ankama Shield on your account
How does it work?
Each time you log in from a new device/browser, Ankama Shield will protect your account by asking you for a security code sent to your email address. You'll then have the option to add a device/browser to your trusted list.